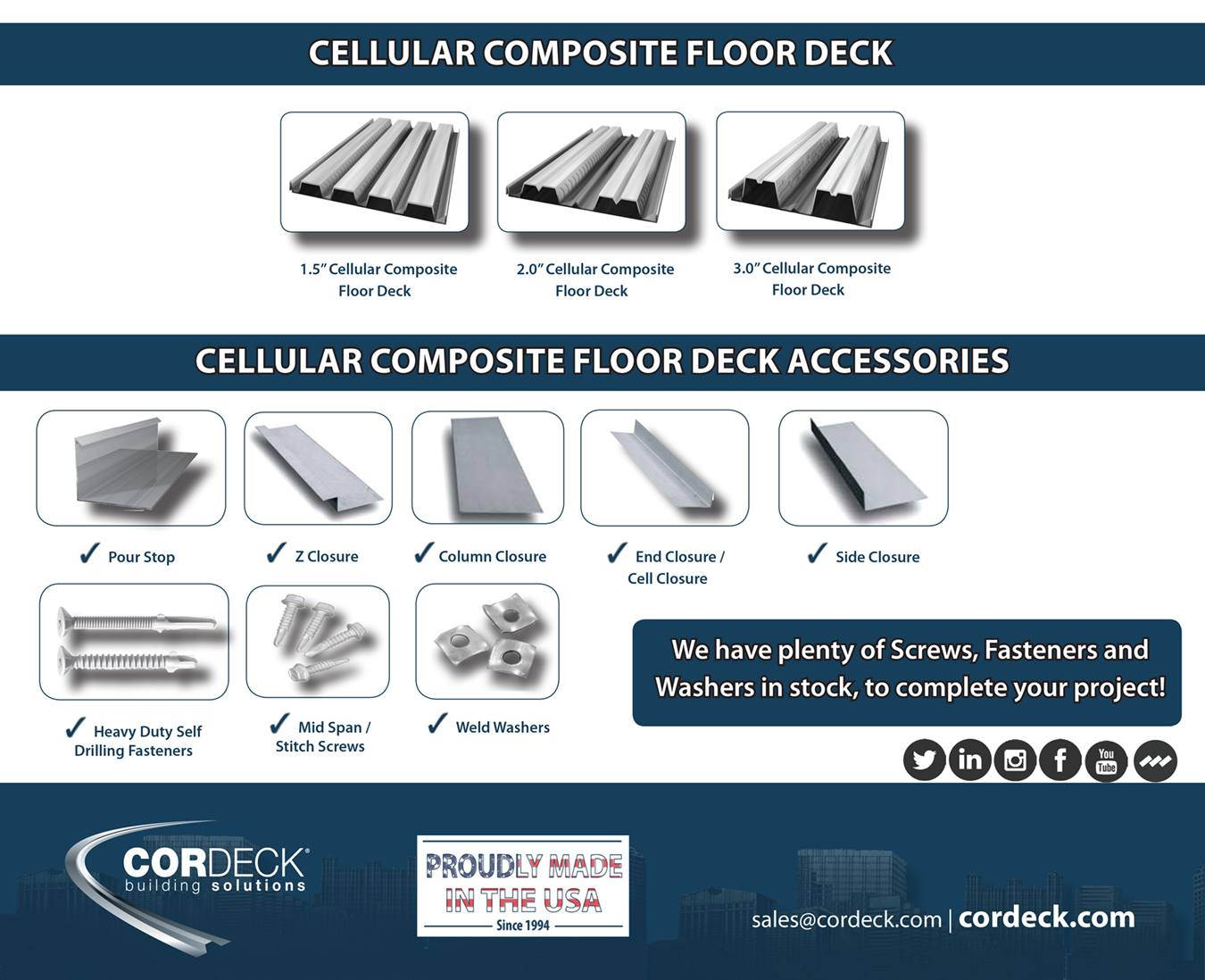 CELLULAR COMPOSITE FLOOR

 DECK
Cordeck Cellular Composite Floor Deck
is traditional
Composite Floor Deck
with flat sheet steel welded to the underside. With the addition of the flat bottom plate, increased spanning and loading capabilities are achieved. As with traditional Composite Floor Deck, Cellular Composite Floor Deck creates a steel/concrete composite floor.
Cordeck Cellular Composite Floor Deck is ideal for long spans and heavy loads, where a flat ceiling on the underside is desired.
All Cordeck Cellular Composite Floor Deck products are also available with acoustical perforations on the flat underside and factory installed with an appropriate sound absorption material (batt or closed cell) for noise attenuation – a perfect choice for gymnasiums, auditoriums, and natatoriums.
Choose from three popular options in a variety of cell depths, widths, and gauges.
Don't forget, we also have all the accessories you may need to complete your next job. Our complete inventory of steel flat stock, allows us to produce closures, filler and finish strips, pour stops, hanger tabs, valley and deck plates, J-channels, rubber closures, sump pans, fasteners, mid-span screws, weld washers, and more – in all gauges.
Call our office today, at 877-857-6400 and ask to speak with a Cordeck Dexpert®. You can also request a quote, via our request a quote form.
Whatever it takes. Whenever you need it. cordeck.com
*PHOTO COURTESY AUSTIN FC READ MORE
Chicago Roofing Contractors Association (CRCA) CRCA is a local trade association of roofing and waterproofing contractors in the greater Chicagoland area. Cordeck has been part of this amazing association for several years. Cheers for [...]