*Walkerdeck® (a registered trademark of The Wiremold Company).
Cordeck's In Floor Cellular Raceway System Delivers Flexibility Around Space
We have effectively integrated power and data management with the structural floor by distributing cabling throughout the space to any location where it's needed.
Our system not only manages, organizes, and protects your power and data, it also provides complete design freedom in a newly designed building.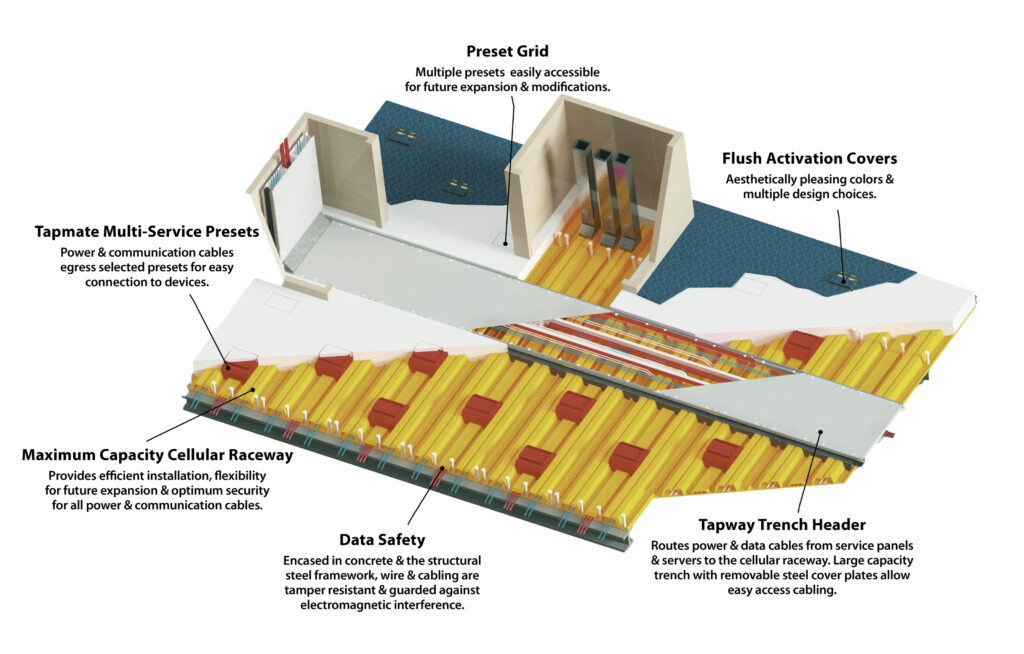 CenturyLink Technology Center
CenturyLink Technology Center
Bobcat Headquarters
Acuity Insurance Headquarters
Key Benefits & Features
SUPERIOR AESTHETICS
Maintains unobstructed sight lines in open floor plan designs. Eliminates the need for ceiling to floor power poles. Works with any floor covering – carpet, wood, tile, etc.
FASTEST & EASIEST WIRE-UPS
Locate it. Wire it. Activate it. No ladders. No core drilling.
LOW INITIAL COST & LOWEST LIFETIME COST
Structural steel decking is a given requirement. In Floor systems utilize this given. Eliminates expensive raised access floors, cable trays, core drilling and poke-through devices, and plenum-rated cable.
COMPLETE ADAPTABILITY
Reconfigure a space any time to serve new purposes, office churn, new tenants, etc.
FIRE SAFETY
Highly flammable and toxic cabling is safely encased in concrete instead of within ceiling plenums. Burning cables produce highly lethal fumes including cyanide, chloride, carbon monoxide and dioxin.
RF SHIELDING
Cabling located inside steel raceways provides enhanced RF shielding (electromagnetic interference).
LEAST DISRUPTION/LOWEST COST FOR NEW ACTIVATIONS
No core drilling means no noise, dust, water, heavy equipment – ever. Improves marketability of leased office space as electrical build-outs are far less expensive and easier than alternatives.
BEST-IN-CLASS CABLING MANAGEMENT
Cables perfectly organized – from closet, to trench header, to raceways, to outlets.
ENHANCED SECURITY
Data and telecom cables are tamper-resistant and encased within the structural steel framework. No cabling runs from the floor below.
STRUCTURAL INTEGRITY
No hollow feel and echoing sound of raised access floor. Eliminates need for poke-through core drilling through the floor slab which weakens the structural integrity of a floor.
HEALTH SAFETY
Carcinogens found in cables include lead, cadmium, and others. As cables age these toxins can slough off cables, contributing to unhealthy air quality. With In Floor systems, cables are encased in steel and concrete, greatly reducing this concern.
CERTIFICATIONS
LEED (U.S. Green Building Council)
UL Listed and Certified to UL and CUL Standard 209 (Underwriter Laboratories)
ICC-ES (International Code Council – Evaluating Service)
SDI Membership (Steel Deck Institute)
Competitive Comparison
Cordeck's In Floor Cellular Raceway Systems provide the important benefit of a low life cycle cost.
Expenses required to install the system or modify the workplace environment are minimized. Cables are installed within the cells of the metal deck, eliminating the added costs of plenum rated cables required by some systems. Economically, Cordeck is the best choice for your wire management needs.
Read on to see how the long-term savings realized when using the Cordeck System mitigate the minor difference in cost per square foot.
| Summary | Cordeck Solution | Poke-Thru Option 1 | Poke-Thru Option 2 | RAF Option 3 | RAF Option 4 |
| --- | --- | --- | --- | --- | --- |
| Cordeck Cellular Raceway | $44,841.00 | | | | |
| Composite Deck | $56,576.00 | $81,662.44 | $81,662.44 | $81,662.44 | $81,662.44 |
| Concrete | $195,640.00 | $195,640.00 | $195,640.00 | $195,640.00 | $195,640.00 |
| Electrical & Data Infrastructure | $186,061.74 | $227,159.99 | $208,417.09 | $231,373.71 | $305,129.63 |
| Core Drilling | | $7,227.60 | $7,227.00 | | |
| Electrical & Data Activation Devices | $34,224.19 | $22,232.60 | $22,232.60 | $20,520.20 | $8,099.48 |
| 6″ Raised Access Floor | | | | $217,215.00 | $217,215.00 |
| 6″ Raised Access Floor (Height Impact / Floor) | | | | $19,680.00 | $19,680.00 |
| System Total | $517,342.93 | $533,922.03 | $515,179.13 | $766,091.35 | $827,426.55 |
Baseline Project Specifications: 30,475 sq. ft. floor plate with 73 activation locations.
Note: The minimal cost difference between the Cordeck In Floor Cellular Raceway solution and poke-thru Option 2 will be recouped upon changing only 2 activations, often occurring even before the building is occupied.
Option 1: Poke-thrus in composite floor deck, power and data fed with EMT conduit
Option 2: Poke-thrus in composite floor deck, power fed EMT conduit, data in cable trays
Poke-Thru Disadvantages
Core-drilling and related coordination required after final space planning
Poke-thrus create ceiling clutter
Exposed cables create potential for security breach from adjacent floors
Moves and changes cause business disruptions and are costly
Cordeck In Floor Advantages
Presets easily accessed after space planning is complete
Completely contained within concrete floor slab
Moves and changes cost is less than half of the unit cost for poke-thrus
System accessible at finished floor
Moves and changes can be performed during business hours with no interruption to adjacent tenants
The Cordeck In Floor System includes over 1,500 activation points for future flexibility at no additional cost
Option 3: Has a 6-inch raised access floor on composite deck slab with power fed MC Cable and data in Cable Trays
Option 4: Has 6-inch raised access floor on composite deck slab with Plug-n-Play Power Management, and data in Cable Trays.
RAF Disadvantages
Much greater overall project cost
Increased floor to ceiling heights

Added curtain wall
Added steel structure
Added elevator travel
Added stair height

Additional trade needed to install system
Accessible data cabling poses security threat
RAF provides environment that may negatively impact building and employee health
Average cost of initial installation: $3,258
Average cost after occupancy: $6,700
Average cost of initial installation: $3,017
Average cost after occupancy: $1,200
Unlike a poke-thru system where multiple trades are involved in adds and changes, cost savings are realized with the Cordeck Solution because most or all of the work is simply completed by the facility's maintenance team.