Our Cellular Metal Roof Deck is a traditional corrugated roof deck with a flat sheet of steel welded to the underside to create an enclosed cellular raceway, that are often utilized to house sound absorbing material. With the addition of the flat bottom plate, increased spanning and loading capabilities are achieved.
These products are also used to build mezzanines and canopies and the attractive flat underside of the Cellular Roof Deck can be left exposed for an open ceiling design. For post-painting purposes, a floating clip insulation option is available.
Our Cellular Roof Deck products serve as the structural substrate in roof construction. Installed directly over structural steel, it provides a solid work surface for the installation of insulation, weatherproofing, and roofing materials.
Five popular types with varying numbers and sizes of cells in a variety of gauges are available. All types are also available complete with acoustical perforations on the flat underside and factory installed with an appropriate sound absorption material (batt or closed cell) for noise attenuation – a perfect choice for gymnasiums, auditoriums, and natatoriums.
Standard
Cover Width:

24"

Additional Cover
Widths Available:

N/A

Available
Finishes:

Galvanized-G90

Prime Painted–Gray or White

Stainless Steel

Available
Gauges:

20/20

18/20

18/18

16/18

16/16

Standard
Cover Width:

24"

Additional Cover
Widths Available:

N/A

Available
Finishes:

Galvanized-G90

Prime Painted–Gray or White

Available
Gauges:

20/20

18/20

18/18

16/18

16/16

Standard
Cover Width:

24"

Additional Cover
Widths Available:

N/A

Available
Finishes:

Galvanized-G90

Prime Painted–Gray or White

Available
Gauges:

20/20

18/20

18/18

16/18

16/16

Standard
Cover Width:

24"

Additional Cover
Widths Available:

N/A

Available
Finishes:

Galvanized-G90

Prime Painted–Gray or White

Available
Gauges:

20/20

18/20

18/18

16/18

16/16

Standard
Cover Width:

24"

Additional Cover
Widths Available:

N/A

Available
Finishes:

Galvanized-G90

Prime Painted–Gray or White

Available
Gauges:

20/20

18/20

18/18

16/18

16/16
Valley Plate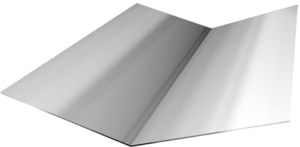 Valley Plate
Available Gauges: 20, 18, 16, 14, 12, 10
Slide 3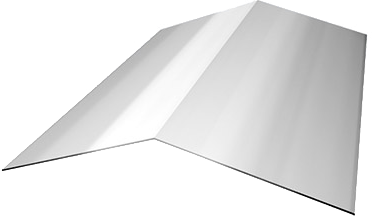 Ridge Plate
Available Gauges: 20, 18, 16, 14, 12, 10
Slide 4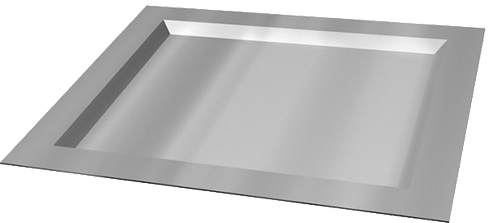 Sump Pan
Available Finishes: Galvanized - G60, Galvanized - G90, Stainless Steel
Slide 5
Tek Screws
Standard Mid Span Screw #10 x 3/4″